---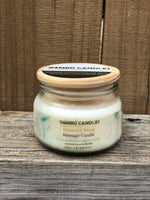 Savor the serene embrace of our Oatmeal and Honey Massage Candle. Infused with the soothing blend of creamy oats and golden honey, this candle creates an atmosphere of gentle comfort and relaxation.
As the candle's flame dances, it metamorphoses into a sumptuous, warm massage oil. Enriched with premium natural ingredients like shea butter and soy wax, this lavish blend nurtures your skin, leaving it silky soft and delicately scented with the warm, comforting aroma of oatmeal and honey.
With a generous burn time, this candle encourages you to cherish moments of tranquility and sensory pleasure.
Immerse yourself in the cocoon of comfort with Bambu Oatmeal and Honey Massage Candle. Let its tender fragrance and soothing touch transport you to a place of pure relaxation and nurturing. Elevate your massage experience with this harmonious fusion of warmth and well-being.