---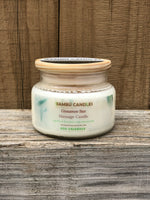 Experience the warm, comforting embrace of our Cinnamon Bun Massage Candle. Infused with the rich, aromatic notes of freshly baked cinnamon buns, this candle creates an atmosphere of cozy indulgence.

As the candle's flame flickers, it transforms into a luxurious, warm massage oil. Enriched with premium natural ingredient like shea butter and soy wax, this decadent blend nourishes your skin, leaving it velvety soft and delicately scented with the delightful aroma of cinnamon and vanilla.
Elevate your senses with Bambu Cinnamon Bun Massage Candle. Let its inviting fragrance and soothing touch transport you to a place of pure comfort and sweetness. Enhance your massage experience with this delectable fusion of warmth and relaxation.